Coming Twogether As One - Chapter 10
Please kindly turn off ADblock to support your translators.
---
Su Zhou stood in the shower. With his carnal desires still running high, he had to turn down the temperature of the cascading water and turn the shower stream up to its highest current. Although Xie Luyang made no mention of it, he knew the most basic requirement of not masturbating and cumming without his master's permission.
Xie Luyang hadn't instructed him to remove his underwear just now, hadn't touched his cock directly, and hadn't requested him to perform any services. Su Zhou couldn't figure out whether the other didn't need it or didn't want it. However, he couldn't say he was disheartened. Despite being eager, he had never had any actual sexual contact with the same sex prior, and he wasn't sure if he would properly acclimate.
His only regret was that Xie Luyang wouldn't let him inhale the scent of his feet, let alone lick them, and he didn't dare act on his own initiative. Su Zhou never thought that there would be a master who did not like to be licked. He wondered if Xie Luyang was a unique case. If so, chances of that happening in the future will be hard to come by.
After a shower filled with absurd thoughts, there was no lingering odor of smoke in the bedroom when Su Zhou returned. When the lights were switched on, he noticed the window was opened; as expected of Xie Luyang's nature. The man had always been attentive, and while not exactly gregarious, he was emotionally stable and rarely agitated, making it hard to imagine the expressions he would have when they play.
Su Zhou shut the window and bundled up under the covers. Listening to the sound of running water in the bathroom soon made him too sleepy to keep his eyes open. In his grogginess, he had a vague feeling that someone had come into his room, but he couldn't hold on much longer and slept anyway.
It was a dreamless night. The alarm clock hadn't gone off when he woke up. It was rare for Su Zhou to be up earlier than Xie Luyang. Thus, he decided to prepare breakfast for his master.
"The sun rose from the west?"
Su Zhou was engrossed in cracking eggs when the sudden disturbance caused the eggshell in his hand to nearly fall into the pot. He turned around to the sight of Xie Luyang standing in the kitchen doorway with only his pajama pants on, looking as though he had just awoken.
"I couldn't sleep. You can catch some shut-eye. I'll wake you when I'm done."
Xie Luyang nodded and left, leaving Su Zhou stuck in place; the racing beat of his heart pulsating.
He recalled back in college when Xie Luyang never stripped out of his shirt in front of him even though he was drenched in sweat after a ball game. Today marked the first time he'd seen him topless. Just the right amount of muscles, a faint frown on a face that wasn't wholly conscious; Su Zhou's face began to burn at his wandering thoughts.
Xie Luyang had not gone back to sleep. He was already dressed and sitting at the table by the time Su Zhou fixed up breakfast.
Su Zhou prepared the simplest shakshuka, but as he had been distracted, some parts were overdone. He apologetically explained, "I didn't do this too well… It's a little burnt."
*Shakshuka is a simple one-skillet dish of gently poached eggs in a mixture of tomatoes, green peppers, onions, and garlic. Spices are also added to the mix.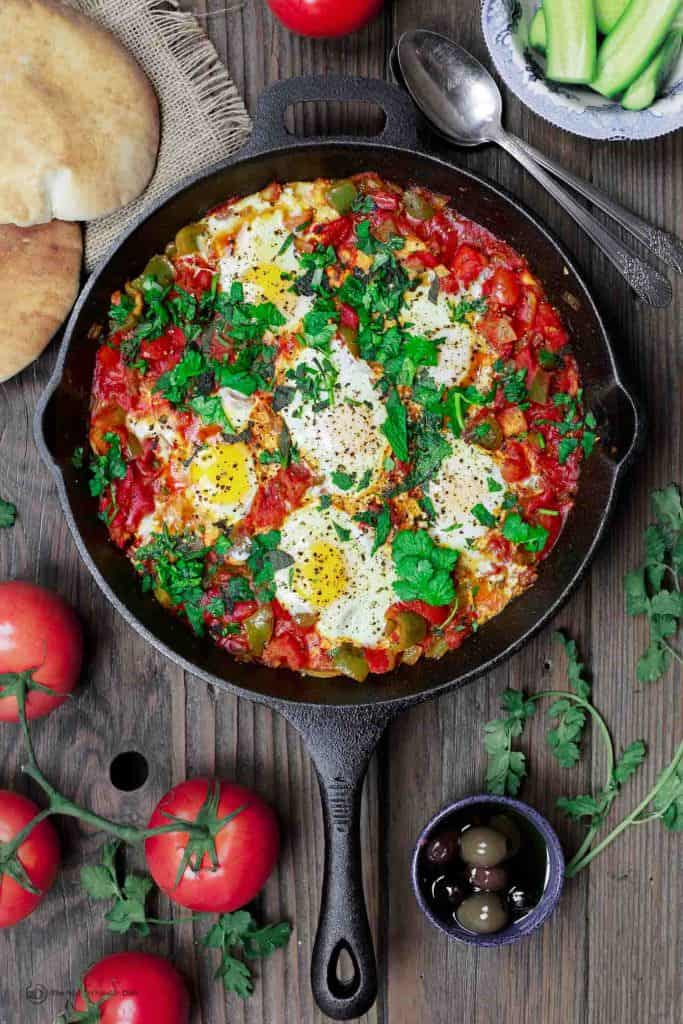 "It's okay." Xie Luyang ate a glop of battered egg white in one bite without any care in the world. He seemed to be in high spirits.
"Is it okay?" Su Zhou looked across the table from time to time as he ate, feeling as though he were actually serving his master with great care. It caused him to have rather mixed feelings.
"Not bad." Xie Luyang drank a mouthful of water before asking, "Did you sleep well last night?"
"It was alright… Did you come in?" Su Zhou wasn't sure if last night's silhouette was a dream.
"En, thought you might've forgotten to shut your windows."
Those words made Su Zhou's mind flashed through the sequence of events that took place the night before, rendering him too abashed to speak. In the end, the other party didn't wait for him to answer before speaking again in a matter-of-fact demeanor, "By the way, don't forget yesterday's assignment."
Su Zhou was sipping water when he heard the latter part of the sentence, causing him to involuntarily choke and burst into a fit of coughs. Xie Luyang was initially taken aback, but began to laugh heartily. Su Zhou seldom saw him laugh this way. It was novel despite it being hard to hide his embarrassment. He could only cover his mouth in an attempt to refrain from making a peep. 
"You really are interesting." Xie Luyang finished his breakfast, got up, and patted the top of Su Zhou's head. "You eat slowly. I have to go to work."
His flippant remark made Su Zhou worry, which resulted in him spending his entire lunch break wondering how to work on that assignment.
"Su Zhou, if you're nodding, does this mean its a go?"
"En."
"He agreed. Alright. That's settled then."
What's settled? What did I agree to? Su Zhou shook himself out of his stupor, asking, "What do you mean settled?"
Luo Yunfeng glared at him. "You're kidding, right? Were you not listening to what I was saying?"
"I had something on my mind. What's settled?"
"I'm impressed. What's wrong with you recently? Your mind keeps drifting. The administrative department invited our department to go for a karaoke session next Friday night."
"I'm not going." Liu Yan was with the administrative department, and Su Zhou wanted to try to avoid any unnecessary misunderstandings.
"Didn't you agree just now? I already promised them!"
"I wasn't paying attention to what you were saying about it."
Luo Yunfeng immediately lost his earlier stubborn bearing upon hearing his words. "Aiyo, hey, I'm begging you. I'll call you ge okay? I also want to have more interactions with Wang Jing from their department. It isn't easy to have such an opportunity to drop right into your lap. Can't you just accompany me?"
"Can't you go by yourself?" Su Zhou could not wrap his mind around his colleague's logic.
"Are you out of your mind?! Why did they ask for you? It's obviously because Liu Yan wants you to go. If you, the man of the hour, won't attend and they decide to cancel the whole thing, how am I supposed to approach her? Just do it for your buddy!"
"But I don't intend on pursuing anything with Liu Yan."
"I know! I know! I'm not telling you that you have to like her. Just come along once. Help a buddy create a window of opportunity, and you can explain your intentions to her clearly."
Su Zhou regarded Luo Yunfeng's vehement efforts to persuade him and was somewhat swayed. He thought about it thoroughly. Perhaps he could go just this once; if Liu Yan were to mention anything, it would be better for him to clarify it with her in an outright manner. He could also comply with Luo Yunfeng's wishes. "Fine, don't make it a habit."
"No problem!" Luo Yunfeng nodded gratefully. "I promise there won't be a next time!"
Xie Luyang had informed Su Zhou that he had a meeting that evening, so Su Zhou and his colleagues went out to dinner before he returned home.
When he arrived home, Xie Luyang had yet to return. Su Zhou scrambled to switch on the computer. He remembered having read an M's autobiography, which described his master's experience of disciplining him, and Su Zhou thought it fit his fantasy. Now was a better time than any to have it copied.
Xie Luyang knew him so well that he deliberately asked him to have it written by hand to prevent him from copying and pasting. Although the contents were the same, jotting down those detailed descriptions word for word as if he were a schoolboy writing an essay still made him too ashamed to pen it down.
When he finally bit the bullet and picked up the pen, he actually got hard. He wasn't sure if it were the contents he was copying or the act of writing itself that caused it.
Su Zhou was helpless. The words had him flushing red, heat radiating off his countenance. He practically copied through the assignment with a thousand-yard stare. It was harder to write than his graduation thesis.
He couldn't be bothered to check to see if it made sense, and he simply didn't dare to read the pornographic piece he'd written with his own hands again. When he had finished scrawling down the other two pieces that Xie Luyang had requested, he surreptitiously deposited the sheet of paper on the computer desk in his study. He spun on his heels, ready to make his exit from the room when he felt that his handwriting was too sloppy. Thus, he flipped the paper over and set it in place as he left the study.
Su Zhou had just showered when Xie Luyang returned, and the two had a chat. Seeing that the other party was about to enter the study, Su Zhou quickly stopped him. "Eh, you're not taking a shower? It's so hot today!"
Xie Luyang glanced at him hesitantly. "A shower sounds good."
When the other party entered the bathroom, Su Zhou made a beeline for the bed and laid down. He decided to feign slumber so that even if Xie Luyang read the piece of paper, he would not wake him up to discuss his thoughts. He wished he could go to sleep right away, but the more he tried, the more he couldn't sleep.
When Xie Luyang showed up at the door of the room again, Su Zhou's heart exalted. But the other party just stood there, as if he had no intention of coming in. Su Zhou made an educated guess that he was judging whether he was in the land of the Nod or not. After holding his breath for a while, the person at the door turned and left.
---
Comments for chapter "Chapter 10"
NOVEL DISCUSSION